What Are The Benefits Of Composite Doors?
Composite Doors
There are many front doors available in a number of styles and made with different materials, but quality and security can vary. In comparison to timber, glass and uPVC, composite doors are relatively new to the market but they have a number of benefits making them a great option for your home.
Manufacturing
Multiple materials are pressed and glued together in high pressure conditions to make composite doors. These are built up with layers of insulating materials meaning they are both strong and energy efficient allowing you peace of mind as well as lower energy bills!
They also have a protective outer skin which safeguards it in all weather conditions meaning it'll last longer and won't need to be replaced for a long time making it excellent value for money.
Maintenance
Another benefit is that they are easy to maintain. Unlike timber doors which require repainting and varnishing every few years, composite doors can be cleaned simply by wiping over with a cloth and oiling the hinges twice a year.
Look
Unlike uPVC doors, composite doors come in a number of different colours, allowing you to create the perfect look to compliment the overall style of your home. Composite doors are stylish and come in a number of designs and finishes which means that you can tailor your door to your exact taste and requirements.
Cost
Composite doors are slightly dearer than uPVC doors, but still offer great value for money due to their excellent quality, durability and security.
At Britelite our composite doors are made from the highest quality materials and provide the best in front door security. We also offer an extensive range of glass design and seven brilliant colours so you can find the ideal match for your home. Composite doors strike the perfect balance between being secure and looking great!
If you're interested you can get a free quote from our online quote engine or give us a call on 0800 50 50 70.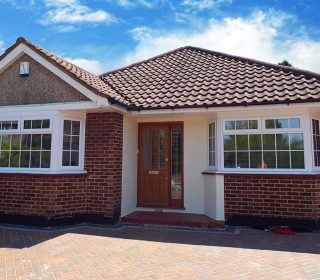 Back to news