Is uPVC or Aluminium better for Bi-Folding Doors?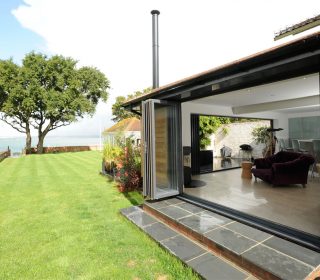 So after months of considering bi-folding doors you have finally come to the decision that bi-folding doors are ideal for your home… now it's time to make the next decision, do you want uPVC aluminium bi-folding doors or uPVC bi-folding doors? In this article we have put together the pros and cons of aluminium and uPVC bi-folding doors to help you made the choice a little simpler;
Aluminium Wins for Longevity
Most uPVC bi-folding doors will only offer a 10 year guarantee but they can start looking tired before this time because they gain a yellow or pink tinge. Opting for lower quality uPVC bi-folding doors will be cheaper at the time, but over time it will cost you more. The strength of aluminium bi-folding doors is far stronger than uPVC bi-folding doors and aluminium bi-folding doors will not reduce the aesthetical value of your home where uPVC bi-folding doors may.
Aluminium Wins for Maintenance
uPVC bi-folding doors can warp or bend with age, especially as it is outside and exposed to direct sunlight for long periods of time. However, aluminium bi-folding doors offer flex, expansion and contraction in direct sunlight and minimal maintenance is required to keep your aluminium bi-folding doors in good working order.
It's a Drawer for Aesthetical Value
Aluminium offers a crisp, sharp metallic finish to your bi-folding doors adding lots of aesthetical value to your home, while uPVC bi-folding doors also look great it's just that they begin to look worse over time while aluminium bi-folding doors will keep the look and feel for years to come. Previously aluminium bi-folding doors were not as popular as they were only available in a typical metallic finish, black or white but they are now available in various colours.
uPVC Wins for Pricing
As discussed previously uPVC bi-folding doors are much cheaper than an aluminium bi-folding door and it is often the hefty price tag of aluminium bi-folding doors that puts many customers off. However, over time aluminium bi-folding doors will be the cheaper option as they are high quality and easy to maintain.
Back to news